Buurtzorg, the self-managed healthcare service in the Netherlands, is considered a model of success. It demonstrates how the structures in the health system can be improved for the benefit of patients and employees.
Text: Dietmar Schobel
"In the 1990s, the management structures and bureaucracy in the healthcare and nursing services in the Netherlands became even more complex. Every single task had to be accounted for, down to the very last second, supposedly in an attempt to save money. This triggered the establishment of an organisation where the focus was returned to the needs of patients, as well as those of caregivers," explains Thijs de Blok, describing Buurtzorg's origins.
The Dutch home care service was founded by his father, qualified nurse Jos de Blok, in 2006 together with Gonnie Kronenberg and Ard Leferink. It is committed to three principles: humanity over bureaucracy, simplicity over complexity and practicability over hypothesis.
Simple and revolutionary
The organisational structure through which this is implemented in practice is considered as simple as it is revolutionary. While other institutions in the health sector often have double-digit levels of hierarchy, Buurtzorg has just one. Employees work in self-organised teams of up to twelve people. When more employees are needed, the teams are divided. The members create duty rosters and care plans together, jointly hire new employees and also make joint decisions on whether to take on new clients.
The very first Buurtzorg team consisted of just three people. But as early as 2007, the first of many media reports about Buurtzorg came out, and the model also received support from the Dutch Health Minister at the time. As a result, the new care service grew fairly rapidly, not least because many caregivers were interested in the new form of organisation and Buurtzorg's objectives. In 2022, over 10,000 nurses organised in around 900 teams worked for the social enterprise in the Netherlands. 98 percent of them are female, all work part-time, and they receive compensation that is one pay grade higher than legally required for their level of education.
10,000 nurses organised in around 900 teams worked for Buurtzorg in the Netherlands in 2022.
Clients are exclusively cared for at home, and the caregivers handle all the tasks that arise – whether cleaning and hygiene, nursing or medical care. Documentation is dealt with immediately on-site using tablet computers. They are equipped with BuurtzorgWeb, which was specially developed for the purpose in conjunction with caregivers. The requirement was that everything relevant should be recorded with the bare minimum of data. This digital system can also be used by the nurses to coordinate their activities and obtain answers to technical questions.
Maintaining independence
The goal of Buurtzorg is for clients to receive the best possible care while remaining independent for as long as possible and receiving as much social support as possible. Employees should have the time to provide high-quality care and maintain personal relationships with those in need of care and also receive ongoing training.
According to the "Onion Model", the first step is to assess the care needs of the clients. After that, the caregivers determine which tasks can be handled by neighbours, friends and family members, provided that they are willing and able. If necessary, these people are also trained to handle the responsibilities. The remaining tasks are then undertaken by the professional caregivers. Specialists who may be additionally required in order to provide optimum care for those in need form "the outermost layer of the onion". They might include general practitioners, physiotherapists or pharmacists, for example.
Regional coaches solve problems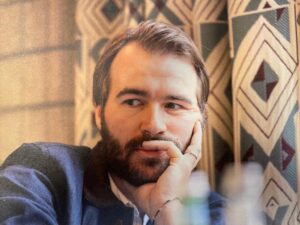 Buurtzorg employs 21 regional coaches who are on hand to act as professional mediators in case conflicts arise within the care teams, for instance. Each coach is responsible for around 40 teams. They do not hold a hierarchical position and are primarily responsible for conveying the philosophy, culture and working methods of the social enterprise to the nurses. The coaches accompany the development of the teams and are there to support them in working independently, self-managing and solving problems. Buurtzorg's back office currently consists of 50 people and is responsible for the invoicing of care services, paying caregivers and all other administrative tasks. "This means that only about 0.5 percent of our workforce are not directly involved in caregiving," says Thijs de Blok.
No one entered this profession for the money.

Thijs de Blok, Chief Executive Officer of Buurtzorg International
The fact that at Buurtzorg – which means "neighbourhood care" in English – tasks normally undertaken by professional caregivers are delegated to friends, neighbours and family members is viewed by critics as a shortcoming. Despite this, the concept is considered a model of success both nationally and internationally. A study by the major consulting firm KPMG in 2012 showed that "by changing the model of care, Buurtzorg has accomplished a 50 percent reduction in hours of care, improved the quality of care, and raised job satisfaction for their employees".
Ernst & Young, another major consulting firm, has found that the costs per patient at Buurtzorg are "20 to 30 percent" lower than conventional care services in the Netherlands. What's more, according to a paper authored by three researchers from the University of Applied Sciences and Arts Northwestern Switzerland, "98 percent of clients would recommend Buurtzorg".
26 other countries are adopting the model
In recent years, the Buurtzorg model has been adopted by various organisations in many other countries, with varying degrees of success. "Buurtzorg International was established to support and assist our international partners with implementation," says Thijs de Blok, Chief Executive Officer of Buurtzorg International. The concept is currently being adopted in 26 other countries in addition to the Netherlands.
In these countries, there are between ten nurses, as in Austria, and 300 nurses, as in Taiwan, working with it. The fundamental principle is the same in all these nations as it was when Buurtzorg was founded in the Netherlands 17 years ago, emphasises Thijs de Blok: "At its core, it's about trust – the trust that people are indeed capable of making the right decisions and managing themselves at work. This is especially the case for nurses, because no one entered this profession for the money."