The 16th EPH Conference in November 2023 will be held in Dublin – a city of literature that also has a long public health tradition.
Ireland's capital city is a city of literature – and it has a long tradition of public health as well. You don't necessarily have to be a fan of Jonathan Swift (1667-1745), Oscar Wilde (1854-1900), James Joyce (1882-1941) or one of the many other famous Irish writers to be acquainted with Dublin's standing in the literary world. Knowledge of its role in public health is less widespread, however. In a way, the two areas are united by William Wilde (1815-1876). While just 29 years of age, the Irish surgeon, ophthalmologist, otologist and father of Oscar Wilde opened the "Ophthalmic Hospital and Dispensary for Diseases of the Eye and the Ear", mostly for treating people with limited means. Sir William Robert Wills Wilde also wrote many books and articles – on eye surgery, Irish antiquities, Irish folklore and not least the health of the Irish population. He received his peerage in 1864.
From 8th to 11th November 2023 the capital city of Ireland will host the 16th European Public Health (EPH) Conference as the focus and meeting place for the community of public health experts from the WHO European Region. "Originally, we should have held a conventional in-person event in Dublin in 2021," explains Anthony Staines, Professor of Health Systems and Chair of the 16th EPH Conference. Planning had started back in 2018. But the COVID-19 pandemic meant that fundamental changes had to be made. He continues: "Ultimately, we managed to stage a very successful conference online."
Focus on the effects of climate change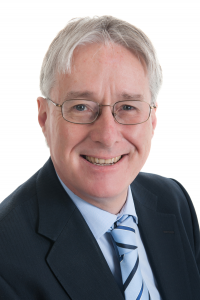 Of course, it was not just the organisational planning that had to be adapted – the conference content had to change as well. Anthony Staines adds: "Last year, the impact of the COVID-19 pandemic was the main focus. And so we are returning to the original topic next year." Therefore, the 2023 conference will be concentrating on climate change and its effects on people's health. Anthony Staines: "Even today, we are experiencing environmental disasters on a previously unknown scale – you only have to think of the 30 million people affected by the flooding in Pakistan this summer, the forest fires in California, the heatwave deaths in the UK, or one of many other alarming consequences of global warming that are already happening."
We are experiencing environmental disasters on a previously unknown scale.

Anthony Staines, Chair of the 16th EPH Conference
But this is only a foretaste of what we will have to deal with over the next 30 or 40 years unless we respond now by rethinking and following through with the necessary changes to our lifestyle. Staines says that many people still fail to recognise the potential magnitude of the consequences of global warming: "Analyses of the direct effect of climate change, based on current trajectories, suggest substantial increases in mortality, especially in poorer communities. Indirect effects such as disruption to agriculture disruption, forced migration, and so on, are likely to be much larger than this. And so we need to take decisive action right now, and not at the expense of poor countries and socially disadvantaged groups of society." Rich countries, including Ireland and many other Member States of the European Union, have to lead by example." The necessary technology – such as for the production of renewable energy – already exists. It merely has to be used.
Our Food, Our Health, Our Earth
The guiding theme of the 16th EPH Conference expresses this focus: "Our Food, Our Health, Our Earth: A Sustainable Future for Humanity", which additionally highlights the connections between nutrition, environment and health. Agriculture is the known source of around 25 percent of greenhouse gas emissions worldwide. Eating a larger share of plant-based foods could reduce this volume, and it would make us healthier as well. Anthony Staines also draws a connection with Ireland: "Exporting agricultural products is an important economic factor in our country, and the transition to more organic forms of farming is the subject of much debate." According to Anthony Staines, this is not just because organic farming prevents soil erosion and acidification: "Irish agriculture is dominated by relatively small family-run farms, and many of those in the younger generation find that innovative forms of agriculture and organic farming are arguments that motivate them to assume responsibility for these farms and prevent their closure."
"Gender health at the margins or the centre", "Digital health", "Workforce and skills", "Climate emergency" and "Food policy, global health and the Sustainable Development Goals" are sub-themes at the forthcoming EPH Conference, which will take place in Dublin's Convention Centre. Croke Park Stadium in the district of Drumcondra was chosen as the venue for the conference dinner with Irish music and a dance performance. The stadium holds 82,300 spectators and is the site of typically Irish sports such as Gaelic football, a fast, and very skilful ball game, or hurling and camogie, which are played with sticks and a ball.
Besides the extensive conference programme, visitors to the Irish capital will be able to enjoy the city's numerous historical sights – ranging from 13th-century Dublin Castle and the National Gallery to Trinity College and St. Patrick's Cathedral. It goes without saying that "literary Dublin" is ever-present – whether in the Irish National Library, the Dublin Writer's Museum or the statue of Oscar Wilde in Merrion Park. In 2010 the Irish capital was named a "City of Literature" by the United Nations Educational, Scientific and Cultural Organisation (UNESCO).
ABSTRACT SUBMISSION AND REGISTRATION
Abstracts for oral and poster presentations at the 16th European Public Health Conference in Dublin from 8 to 11 November 2023 can be submitted from 1 February to 1 May 2023. A mentoring programme is available for less-experienced presenters. Detailed instructions will be found at the website of the EPH Conference Foundation. Registration for the EPH Conference in Dublin opens on 1 April 2023.