Portugal's Minister of Health, Marta Temido; Austria's Minister of Social Affairs, Health, Care and Consumer Protection, Rudolf Anschober, and Hans Kluge, WHO Regional Director for Europe explain what "Dancing with elephants", the main theme of the European Health Forum Gastein (EHFG) 2020, means to them. Are new, intersectoral partnerships needed to meet the biggest challenges in the health sector?
Survey: Dietmar Schobel
Hans Kluge, Regional Director of WHO Europe
In the WHO Europe Region, dancing with elephants means forging a new path in the interests of the health and well-being of our citizens. This approach is embodied in our European Programme of Work (EPW) 2020-2025; "United Action for Better Health". At the centre of the EPW is a mandate to leave no one behind, to help all countries in our region achieve Universal Health Coverage and deliver on the Sustainable Development Goals.
Through the EPW we are exploring how to work more closely with the pharmaceutical industry. We are working to define a new social compact that will ensure equitable access to affordable vaccines, diagnostics and therapeutics, while still maintaining commercial viability for companies.
The EPW also emphasises the need to build capacity for the response to health emergencies and reflecting the importance of digital health. This requires greater engagement with the technology sector. We must explore more deeply the potential of big data in responding to new health challenges including future pandemics and climate change.
As we continue to grapple with COVID-19 the need to rethink how we work across sectors to improve health outcomes is more urgent than ever. The COVID-19 Vaccine Global Access Facility (COVAX) demonstrates how the health and public sector can help lead this dance. Ground-breaking collaboration aims to accelerate the development and manufacture of COVID-19 vaccines while guaranteeing fair and equitable access for every country in the world. There are inevitably risks in doing things differently. New partnerships for health must continue to be guided by the same stringent ethical measures to which we are already held accountable by Member States, the public, our donors, and the public health community. As we continue to navigate the new reality brought by COVID-19 we must remember that no one is safe unless everyone is safe. We are nothing if not in this together.
Marta Temido, Minister of Health, Portuguese Republic
For most of 2020 we have been dancing with one particular elephant – SARS-CoV-2 – and there is no point in pretending otherwise. The pandemic is the key issue. Having said that, and addressing the European Health Forum Gastein's main theme for 2020, namely "Dancing with elephants – New partnerships for health, democracy, business", the pandemic itself requires that this dancing is reinforced in order to achieve an effective treatment or a vaccine. This is the only guaranteed way to solve all the problems brought by the disease, especially the economic ones caused by the lockdown. If there has ever been a need for innovative ways to achieve common goals, surely it is today. On the other hand, there is closer alignment of what is wanted these days by the players and stakeholders in terms of public health.
However, we are talking about a disease, not about magic, so the world has not completely changed overnight. In this scenario, the first thing that comes to my mind is to stress the relevance of having a national health service that provides affordable and universal healthcare for all and the role played by public health and primary care in this context. At the same time, the pandemic has revealed another issue, which is the lack of supply globally, and that it is not a problem that is specific to medicine. Medical devices were heavily impacted by COVID-19 as well, and any policy options should include these products.
We also need to increase the collaboration between national competent authorities, the European Medicines Agency (EMA) and competent authorities from third countries, under European coordination. Portugal has argued in favour of reinforcing EMA's role in monitoring shortages of medicines and the strengthening of shortage management at EU level. In these most trying of times, we must be able to speed up the rate at which new medicines and medical devices are safely available without compromising the basic right of taxpayers to be kept fully informed during the process, in particular regarding the uncertainty surrounding the research and development of vaccines and medicines.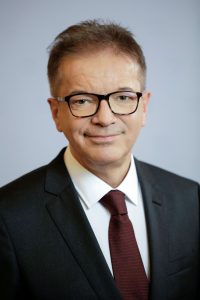 Rudolf Anschober, Federal Minister of Social Affairs, Health, Care and Consumer Protection, Austria
The past few months have presented us with major challenges – worldwide, in Europe, and in Austria. The pandemic has also revealed how quickly national health systems can reach their limits. At the same time, it has shown that a well-functioning, solidarity-based health system with corresponding preventative measures and strategies for the population remains the key basis in dealing with such an extraordinary crisis.
Despite the huge challenges over recent months, it is true that every crisis can also offer opportunities. New partnerships and expansive cooperation are crucial here. Throughout the EU and also within Austria, we must reflect appropriately and take concrete steps to strengthen both our position in a crisis and our resilience in all sections of society for the future. Areas such as innovation, production and research play an important role: strategies will have to be developed at European and national levels to secure the provision of critical products for the population over the long term, for example – particularly in the area of medical devices and pharmaceuticals.
In the Austrian health sector, some areas are especially significant in promoting future development. This also includes the acceleration of day-clinic and outpatient services while relieving the pressure on inpatient treatment, plus the creation and expansion of additional primary care units and the specific employment of e-health applications such as electronic vaccination records, electronic prescriptions and telemedicine – with a particular eye to the observance of social and ethical standards. These measures will create new and innovative perspectives for the Austrian health sector.
Overall, we can only use synergies and tap into added value in society as a whole if we work together across all sectors in extensive cooperation. This doesn't just enable us to increase our efficiency, it also puts us in a position to provide a rapid, appropriate and target-oriented response to future challenges. If we have learned anything from this crisis, it is that we can achieve more working together than on our own – in Austria, Europe, and worldwide. Let's dance with the elephants!