Digitalisation brings both opportunities and risks. Experts on digital health believe that if private data is protected securely and new technology is put to appropriate use, the advantages far outweigh the drawbacks.
Text: Dietmar Schobel
'Digitalisation' and 'digital transformation' are topics that have been at the heart of public debate and policy discussions for several years. In healthcare, on the one hand they are linked to the hope for better and quicker services. But on the other hand, many citizens – and also experts – are afraid that digitalisation will jeopardise the human touch, for example if artificial intelligence applications were to replace doctors, or if tasks performed by carers were carried out by robots instead.
Observing the interests of users
Indra Joshi, Head of Digital Health and Artificial Intelligence at England's National Health Service (NHS) and speaker at the European Health Forum Gastein 2019, sees no cause for alarm: 'Digital technology has played an important role in the health sector for decades, and the level of humanity in healthcare has not decreased significantly as a result.' She points out: 'To ensure it stays that way, it is primarily important that new technology does not become an end in itself. The needs of users always need to be at the centre of development processes, and especially with regard to use of the technology.'
The needs of users always need to be at the centre

INDRA JOSHI, HEAD OF DIGITAL HEALTH AND ARTIFICIAL INTELLIGENCE AT ENGLAND'S NATIONAL HEALTH SERVICE (NHS)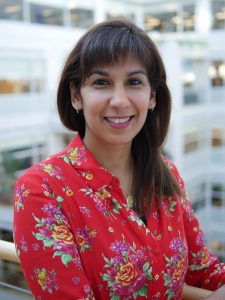 While the application of digital technology has considerably increased the quantity of health information available over recent years, the quality has also changed and new opportunities for access have been created. Digital technology has changed services in healthcare and – last but not least – affects diagnostics and therapies as well. We now have wearables that record our health data, apps that enable better management of diseases, artificial intelligence applications for early detection of certain conditions, and Internet searches for health information, the last of which has long been taken for granted. 'The new technical possibilities also bring new strategic, legal and ethical issues for which we must find suitable answers,' says Indra Joshi.
In order to achieve this, England's National Health Service works with the suppliers of digital technologies and also their users. The latter are expected to be able to make even better and more efficient use of healthcare services with the help of digital tools, and receive the necessary support where required. In cooperation with NICE, the National Institute for Health and Care Excellence, an 'Evidence standards framework for digital health technologies' has been drawn up for producers of digital technologies. The aim of this guideline is to make it easier for innovators and commissioners to understand good levels of evidence for digital healthcare technologies. These technologies must also meet the needs of the health and care system, patients, and users.
Exploiting potential
'Indeed, digitalisation also bears risks, both in regards to privacy and also through potentially inappropriate usage of technology. However, these risks can be managed, and we must remember that maintaining the status quo holds even bigger risks, and so we must not be deterred from fully exploiting the immense potential of innovation and digital health,' emphasises Ran Balicer, who is a speaker at the European Health Forum Gastein 2019 and Director of the Research Institute at Clalit, Israel's largest healthcare organisation. He is also Director of Innovation for Clalit and sees huge potential in digitalisation, which can take healthcare away from being reactive, and achieve a preemptive and proactive approach.
The significance of this in practice has been examined at Clalit in a large-scale study over the past eight years. Its aim has been to reduce the number of patients who suffer from chronic kidney insufficiency and consequently require dialysis. Chronic kidney insufficiency is a quiet disease. When the first symptoms appear, it is usually too late to avoid dialysis. Targeted data analyses therefore aim to identify patients at risk as early as possible, and to enable corresponding treatment.
Reducing the risk of chronic kidney insufficiency
'Every year we identify around 12,000 people at predicted high risk for forthcoming renal failure, and we pass on the relevant information to their general practitioners, who can take it into consideration when treating these patients,' explains Ran Balicer. In the course of this study, a guidebook was written that describes details of the possible therapies for these patients who are at risk. Specifically, this can refer to a patient who – wherever possible – would stop taking certain medication against high blood pressure, or take different medication, in order to reduce the risk of chronic kidney insufficiency. Over nearly two decades Clalit created electronic documentation for all the clinical data such as diagnoses, laboratory results, medication prescription and dispensing, and imaging studies of its 4.5 million members, and this was the starting point of the research work. 'We are now doing the same in efforts to prevent cases of diabetes, pneumonia, even cancer, but it will take a couple of years to measure the impact,' explains Israeli researcher and innovation director Ran Balicer.
We have to establish trust in digital technology and use it in an appropriate way.

RAN BALICER, DIRECTOR OF THE RESEARCH INSTITUTE AT CLALIT, ISRAEL'S LARGEST HEALTHCARE ORGANIZATION
He believes that the spectrum of possibilities for diagnostics and therapeutics that are enabled by analysing large quantities of digitalised patient data with the help of corresponding algorithms will be significantly increased in the coming years. This will happen in particular by integrating data collected using genome sequencing, metabolome and microbiome in addition to clinical data. 'This will allow us to provide tailored and more successful therapies for individual patients,' remarks Ran Balicer. He adds that it will definitely not make medical professionals superfluous: 'We have to establish trust in digital technology and use it in an appropriate way. With this support, in the future doctors will be able to focus their time and effort in the humane aspects of medicine and treat patients as a person and respond to their needs even better.'